MERAK is certified as a Great Place to Work®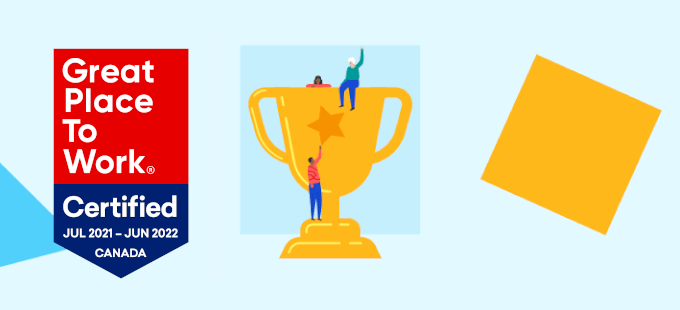 Overview
It's Official, MERAK is a Great Place to Work®
MERAK is proud to announce that we have been certified as a Great Place to Work® after a thorough, independent analysis conducted by Great Place to Work Institute® Canada. This certification is based on direct feedback from employees, provided as part of an extensive and anonymous survey about their workplace experience.
We are extremely proud of the work we've done to make MERAK what it is today. We have to balance the complex needs of our clients while creating a space where our team feels valued and appreciated for the expertise they bring to the table. At the end of the day, our company is only as good as our people.
It's important to understand what makes them happy, and everyone is different. For some, what they are working on is most important, for others it's salary or benefits or flexibility. We have to be in tune with everyone's needs and make sure we never give anyone a reason to leave.
Nancy Fonseca, Senior Vice President of Great Place to Work® Canada, says that a great workplace is about the level of trust that employees experience in their leaders, the level of pride they have in their jobs, and the extent to which they enjoy their colleagues. "Our data shows that great workplaces benefit from stronger financial performance, reduced turnover, and better customer satisfaction than their peers. What's more, work environments with trust at the foundation are ripe for innovation, agility, resilience and efficiency," Fonseca said.
About MERAK
The team at MERAK Systems Corporation are trusted technology experts, providing exceptional services that leverage information technology to fulfill unique business objectives. Founded in 1994, MERAK is headquartered in Guelph, ON, centered in the Toronto-Waterloo technology corridor.
About Great Place to Work®
Great Place to Work is the global authority on high-trust, high-performance workplace cultures. Through proprietary assessment tools, advisory services, and certification programs, Great Place to Work recognizes Canada's Best Workplaces in a series of national lists including those published by The Globe & Mail (Canada) and Fortune magazine (USA). Great Place to Work provides the benchmarks, framework, and expertise needed to create, sustain, and recognize outstanding workplace cultures. Visit www.greatplacetowork.ca to learn more and follow them on Twitter at @GPTW_Canada.
Contact
Jacob Goerz, Business Development Manager
519-767-1292 ext 134