MERAK named 2020 Canada's Top SME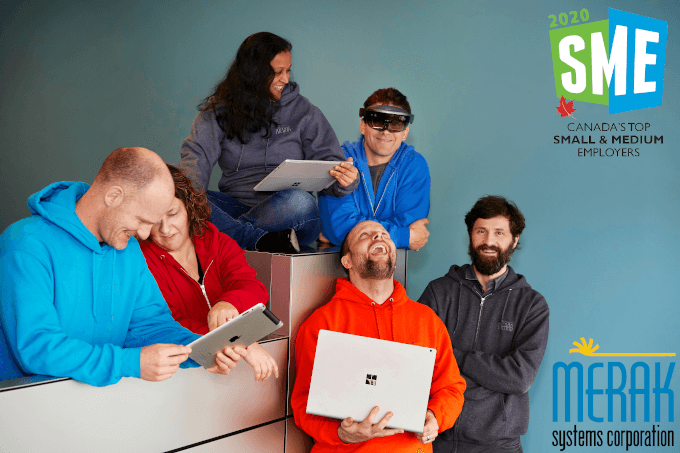 GUELPH, ON: Built on a foundation of putting its people first, Guelph-based MERAK Systems Corporation is an award-winning technology solutions provider that now has the distinction of being one of Canada's top small and medium employers.
"We are honoured to be a recipient of this award and to be recognized as one of Canada's top small & medium employers," says Brett Bickerton, MERAK President. "It solidifies a key component of running a successful business that we already know - when you invest in your people, great things happen."
MediaCorp recently announced its " Canada's Top Small & Medium Employers " an editorial competition that recognizes the small & medium employers (SMEs) that offer the nation's best workplaces and forward-thinking human resources policies. Employers are evaluated based on physical workplace; work atmosphere and social; health, financial and family benefits; vacation and time off; employee communications; performance management; training and skills development and community involvement.
"We are extremely proud of the work we've done to make MERAK what it is today," says Bickerton. "There are a lot of elements in play to build a successful company. We have to balance the complex needs of our clients while creating a space where our team feels valued and appreciated for the expertise they bring to the table."
MERAK has grown significantly over its 25-year history - from operating in the basement of its founder with a team of three to now boasting 20 employees who call their custom-built office on Woodlawn Road home.
Over the years, the company has evolved steadily to meet the ever-changing technology needs of its clients and employees alike. Recognizing the importance of investing in its people first, MERAK has adopted a culture that allows its team to thrive both personally and professionally.
"A great career should not come at the expense of family life," says Bickerton, MERAK President. "Large tech firms are going to have slides and ping pong tables and free meals because the goal is to have employees at work as much as possible. We want to go home at night, so we're offering a different environment."
That environment includes an emphasis on life-long learning where the costs of employee professional development are fully subsidized. In an industry where staying stagnant is not an option, skill development is a MERAK core competency.
"At the end of the day, our company is only as good as our people," says Bickerton. "It's important to understand what makes them happy, and everyone is different. For some, what they are working on is most important, for others it's salary or benefits or flexibility. We have to be in tune with everyone's needs and make sure we never give anyone a reason to leave."
About MERAK Systems Corporation
The team at MERAK Systems Corporation are trusted technology experts, providing exceptional services that leverage information technology to fulfill unique business objectives. Founded in 1994, MERAK is headquartered in Guelph, ON, centered in the Toronto-Waterloo technology corridor.
For more information, please contact:
Jacob Goerz, Business Development Manager jgoerz@meraksystems.com 519-767-1292 ext 134 https://www.meraksystems.com