This year MERAK decided to stray from our traditional dinner and speeches event and celebrate the season with a little magic.
Beginning with a smooth coach ride to our hotel in Niagara Falls. A heavy fog covered the view from our rooms. As it cleared we were met with a stunning view of the Canadian "Horseshoe" Falls, American Falls & Bridal Veil Falls. What a treat especially when the spotlights bathed the Falls in different colours.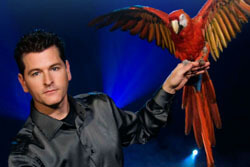 After we settling into our hotel rooms we embarked on another coach ride to the Greg Frewin Dinner Theatre. Where we were mystified by illusions of Greg Frewin and his entourage, including tigers, ducks, parrots and assistants. How did he replace the woman in a cage with a tiger???
It was a wonderful evening that allowed the MERAK team, friends and families to connect, relax and have fun. What a great way to celebrate the holidays.
Happy Holidays to Everyone!