Movember Adaptation: May 2012 - July 2012
James Dyer continues to sport his stache through the hot summer months. With significant support back in April, James had enough financial support from pro-stachers to take his mustache through May, June and July.
July 2012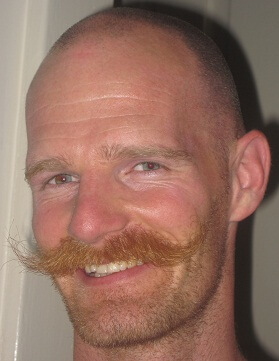 James reached 2 major milestones in the month of July:
Over $2,000 has been raised since Movember Adaptation began
July 7 marked the 250th day of mustachioed madness
The fundraising goal for August has been increased to $500. With carry-over from July into August, pro-stachers need to raise $258 to keep James' mustache past Labour Day.
How to Participate?
Donations can be made to a charity of your choice.  James has recommended the Stephen Lewis Foundation. You can send the gift notification to DYERStache@gmail.com. James keeps track of the donations through that email and determine at the end of each month whether the stache stays or goes.
Thank you for your support! Keep checking back for updates and progress.
Original Story - April 2012