MERAK gives the 'Gift of Life': Increased Pledge Status
MERAK Systems blood donor team attended its third visit of 2012 to the blood donor clinic. We are proud to announce that to date, our team has donated a total of 22 units!
Our original goal of 30 units is extremely attainable, so we have chosen to increase our pledge to 35 units. We have approximately 3 more visits to go to the end of the year with an average of 5 individuals donating at each visit.
Why is MERAK participating?
We all know someone who needed blood for surgery or medical treatment. This is one small way our company can give back and make a life-changing difference for someone when they need it most. It takes less than an hour every 56 days but can have a huge impact on someone's life.
How much blood does it take to save a life?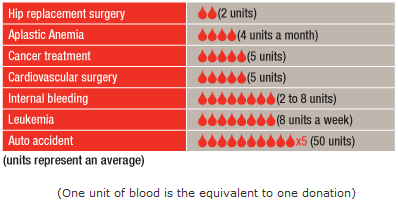 (image taken from Canadian Blood Services)
Would you like to join MERAK in Partners for Life?
Family and friends can also add to our company goal every time they donate blood and we would love to have you join us in the cause. Please contact us if you are interested.
Original Story: MERAK gives the 'Gift of Life' - January 1, 2012
Follow up: MERAK gives the 'Gift of Life': Halfway to Goal - May 3, 2012