MERAK gives the 'Gift of Life': Halfway to Goal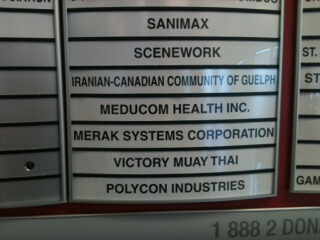 Every 56 days a group of MERAK employees either on their lunch or after work make their way to the Canadian Blood Services located in Guelph, to participate in 'Partners for Life'.  On May 3 the group completed their third visit of the year.  In total MERAK employees have donated 16 units, completing just over half of the company's goal to donate 30 units by the end of the year.
If you are interested in donating you can make an appointment with Canadian Blood Services at 1.888.2.DONATE or you can join us June 28, 2012 for our next donation.
Thank you to all donors new and old.  And a special thank you to the nurses and volunteers at Canadian Blood Services who are getting to know us, making our visits quick, painless and comfortable.
Original story: MERAK gives the 'Gift of Life' - January 1, 2012