The Power Platform Centre of Excellence
Episode 53
Numerous times in this blog series, I have covered the concepts of Power Users and no- and low-code application development platforms in the context of technical debt, development governance, development practices, and using these tools and practices to gain a competitive advantage. Software application development practices are rapidly evolving as organizations experiment and learn what works and what does not. No- and low-code development platforms are empowering business users to develop solutions for themselves, which can give organizations the potential to rapidly scale new solutions. The core challenge for IT administrators is enabling growth while maintaining governance and control. This blog will provide an overview of the Power Platform Centre of Excellence and how it attempts to address this core challenge.
What is the Power Platform? The Power Platform is a collection of four applications; Power BI, Power Apps, Power Automate (Formerly Microsoft Flow), and Power Virtual Agents. As the name suggests, each of these applications is geared toward Power Users. Power BI is a business intelligence platform, Power Apps is a low-code application development platform, Power Automate is a business productivity automation platform, and Power Virtual Agents (the odd child of the bunch) is a no-code chatbot platform. A core advantage of the Power Platform is its out of the box integration with Microsoft 365, Dynamics, and Azure.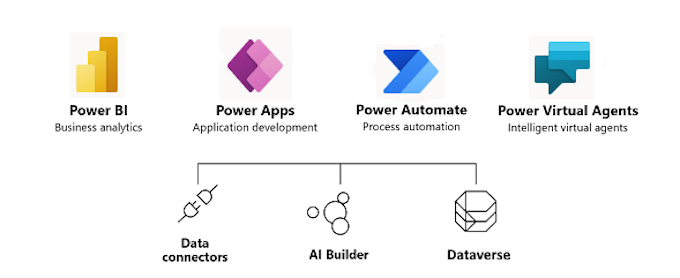 With these platform applications an organization can gain visibility into the data it generates, automate processes, build applications, and scale their ability to engage with customers. But isn't that what IT does for us right now? What is different? The core mission for the Power Platform is to empower everyone in your organization with the tools that were once exclusive to professional developers. It is a completely different paradigm for IT governance when applications can span from personal use to enterprise mission critical systems, both of which are developed and managed collaboratively between business users and professional IT staff. Such an environment could be highly innovative and agile but could also quickly fragment into a fragile collection of applications making control of the IT environment extremely challenging. Traditional shadow IT challenges come from unmanaged SaaS application procurement; however, in this case shadow IT infrastructure is being developed by the organization's users. It is important to mention that not all organizations want to or are able to "move fast and break things". While it is good for innovation to have areas to freely explore, the core business will require structure. One of the challenges with adoption is the sheer size of these tools and not knowing where to start.
This is where the Power Platform Centre of Excellence comes in. Drawing on the experience from early adopters, Microsoft (with help from Partners and clients) has been able to put together what I want to call a technical governance layer that provides environment and lifecycle management for Power Apps and Power Automate projects. With the framework in place, along with curated learning resources, the platform would reduce the adoption overhead for organizations looking to use the Power Platform to drive innovation in their organization. You cannot manage what you cannot measure, and one of the main contributions that the Power Platform Centre of Excellence provides is a very extensive set of tools to gain visibility of what their organization's users are working on, deploying, and using.
The Power Platform Centre of Excellence covers six main areas: Architecture, Security, Monitoring, Alerts and Actions, Deployment, and Education and Support. Covering these topic areas any deeper would be a blog (and more!) into themselves. In the current state, the framework represents best practices as they are understood today. I fully expect the platform to rapidly evolve over time as the products themselves are also rapidly evolving.
To get started, there is a Centre of Excellence starter kit that walks administrators through the process of administrative setup, governance configuration, and nurturing the creative environment. For a deep dive, a link to the white paper is here. Choosing to work within the Power Platform ecosystem represents a decision to make a commitment to a learning curve for both administrators and users. The governance focus of the Centre of Excellence can initially feel like the organization is implementing a "Big Brother" form of surveillance over its users. With technology governance it can both stifle and promote collaboration and innovation. Ever waited days, weeks, or months for IT to install an application on your machine? To nurture innovation, the dashboards can be used to connect different groups within the organization who are using the same services or connectors. Likewise, there is no point independently solving the same problem twice, and promoting solutions and learning from others who have already worked on that problem can be a massive accelerator. A Teams channel for Power Users can be a great forum for idea and knowledge exchange.
There is a source of conflict between the ethos of no- and low-code development and IT governance and control. The balance between these forces will be unique to every organization and it takes experimentation, discovery, and learning to figure it out. Innovation is like driving a race car: you must go fast but you also need to stay on the track. Change leaders and evangelists are essential to keep the momentum going through the inevitable ups and downs in the process.
A link to the Power Platform Centre for Excellence website is here